Creative types and business people gathered at the V3 coffee shop in Ho Chi Minh City on Sunday to air ideas and bid for their commercial possibilities. It was the first Viet Nam Idea Exchange, as the event was called, and drew more than 300 artists, designers, engineers, business executives and curious onlookers.
Going to the highest bidder: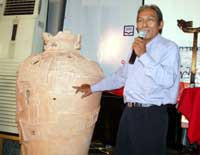 Artisan Huynh Van Da introduces his vase.
To begin the auction, sculptor Huynh Van Da presented a 1.55-meter-tall vase featuring the cultural symbols of 54 Vietnamese ethnic groups. He offered the vase for VND5.2 million and threw in a suggestion for making money from it.
A lot of interest and a bid for the right amount of money came from Le Viet Hai, director of Hoa Binh Construction Company. "These cultural products will make the Vietnamese people and the land better known throughout the world. We really like this idea," he told the artist.
Next up was Nguyen Thi Kim Thanh, who brought out a picture made of coconut shells. Titled "Viet Nam, My Fatherland," the picture bore representations of the country's northern, central and southern regions. A bid of VND100 million and a commitment to support Ms. Thanh came from Nguyen Huu Tung, the boss of Hoan My Hospital.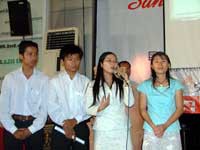 Four students from the University of Economics talk about their project of "Smokeless tea"
"Smokeless Tea" was the name of an idea presented by four students from the University of Economics: Nguyen Duy Khanh, Nguyen Thi Be Phuong, Luong Bich Kieu and Huynh Tan Vien.
Basically a tourism project, "Smokeless Tea" would involve building tea houses, tea villages and grocery shops.
In response, Director Le Xuan Thao of the Viet Nam Fund for Supporting Technological Creations pledged to liaise between the four students and the People's Committee of Thai Nguyen Province to create "Thai Nguyen Tea Village".
Le Quoc Khanh, an architect with the Toan Gia Company, wanted VND5 billion for the manufacturing rights to a unique rescue ladder he had designed. A helpful Vo Van Chau, general director of the Orient Commercial Joint Stock Bank, recommended that Mr. Khanh keep his idea and manufacture the ladder himself, and let Orient Bank help him with any financial difficulties.
Orders for new ideas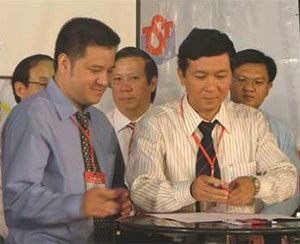 At the Viet Nam Idea Exchange on Oct 22
Director Hoang Quoc Viet of Nguyen Hoang Informatics Co. told the audience that his company was ready to pay VND100 million for a design for a laptop computer that could retail for US$250.
Several enterprises placed orders for inspiration. Dr. Nguyen Huu Tung of Hoan My Hospital said he was looking for money-saving ideas for surgery so that the poor could benefit from private medical practice.
Tran Dai Nghia, director of the iCARE Hospital, placed an order for a slogan for his company, something that would "capture the company's essence" as he put it.
Vu Tran Ngoc Hue, the deputy general director of Vietbooks, estimates there are nearly 2,000 ideas in search of money to commercialize them.
Leading designer Yian Sann was also there and seemed very pleased with the event. "This idea swap has impressed me mightily, as have all the great business ideas I've heard. The problem is not how many ideas you have but what you do to make them interesting to others. New ideas will create prosperity in the globalization process," he said.
The final word came from the old soldier General Vo Nguyen Giap, who is the honorary chairman of the Viet Nam Technological Creativity Assistance Fund.
"I hope that scientists as well as domestic and foreign enterprises will turn ideas into reality and attain scientific and technological achievements to develop industrialization and modernization," the general told the audience.
The next Viet Nam Ideas Exchange will be held on December 3, after which the plan is to hold it every month in a major city.
Sunday's organizers were Viet Nam Ideas Books, the Ho Chi Minh City Science and Technology Information Center, the city branch of the Viet Nam Chamber of Commerce and Industry, Viet Nam Technological Creativity Assistance Fund, Viet Nam Intellectual Property Institute, HCMC Youth Union Science and Technology Development Center and Nguyen Hoang Informatics Co.
Find out more at any of these places:
-Vietbooks: 304/87 Dao Duy Tu Street, Ward 9, Phu Nhuan District, HCMC. Tel: 997 4007, Email: vietbooks@ytuong.com.vn
- Cesti: 79 Truong Dinh Street, District 1, HCMC. Tel: 823 2196, email: cesti@gov.vn
- Vifotec: 53 Nguyen Du Street, Ha Noi. Email: vifotec@fpt.vn
- HCMC Youth Union Science and Technology Development Center: 1 Pham Ngoc Thach Street, District 1, HCMC. Tel: 823 3363, email: khoahoctre@hcm.vnn.vn.