Property companies said the demand for medium- and low-cost houses were very strong, expecting the market will recover in the last six months of the year.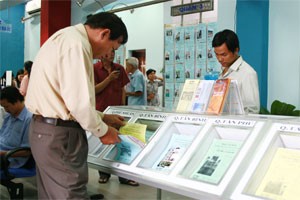 A man picks house profiles at a HCMC-based property consultancy office. Property brokers say investors are hunting medium- and low-cost houses (Photo:Minh Tri)
Chairman Le Hoang Chau of the Ho Chi Minh City Property Association said "I believe the property market this year will recover and grow strongly."
"The government determined to fight against inflation, tightening the monetary policy. The move, in short term, may make some impacts to the market, but later it will help the market to develop more steadily."
Chau noticed that administration procedures for property investments were gradually getting simple, encouraging investors to make more investments.
"That is signals of a strong recovery on the market this year, especially at yearend. I expect houses and apartments with medium and low cost will be the top picks," he said.
Orders of customers for medium-cost houses this year made out of 40 percent, Le Chi Hieu, chairman and general director of listed property house ThuDuc House said, expecting investors will focus on this segment.
Analysts said a fast urbanization process and large waves of immigrations from rural areas to big cities including Hanoi and HCMC boosted the housing demand in the next 20 years, making the property market pretty promising.
However, investors are coping with many challenges including high interest rates as the government is implementing a tight monetary policy to tackle inflation. Experts proposed that tariffs of land usage should be lowered to heat up the real estate market.
"A lot of cash will flow into the property market right after the macroeconomic is getting stable, with inflation slowed down," said Hieu.
However, Hoang Anh Tuan, general director of property firm Tat Dat Tat Vang, showed concerned on the property market, noticing the market's move depends on banks' credit policies on real estates.
"Most property buyers need financial supports from lenders. But investment flows are being hindered by high interest rates and the fact that banks limit loans for property trading," Tuan said.
Surveys of the company show that the demand for medium- and low-cost houses is very strong, especially at provinces adjacent to HCMC, including Dong Nai and Binh Duong.
"Only when banks offer loans to property investors, the market will be booming," Tuan said.
Chairman Tran Van Thanh of property firm Viet Nam House said real estate prices would likely to move up in the third and fourth quarters this year if inflation is curbed and interest rates drop.
"Prices of houses and apartment in many property projects are attractive now as they fall to the bottom. Therefore, it is the time to invest in property," Thanh said.