With a good crop imminent and rice prices on the rise, Mekong Delta farmers are likely to make good profits, the Mekong Delta Rice Institute said.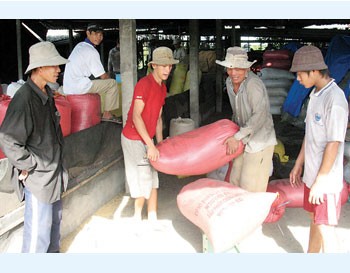 Rice delivered for export from a warehouse in the Mekong Delta. A bumper crop is forecast in the region this winter-spring crop which will be harvested by March. (Photo: SGGP)
"The winter-spring rice crop appears in good shape, the average yield is estimated at 6.2 tons per hectare, and total output is expected to reach 9-10 million tons," Dr. Le Van Banh, head of the institute, said in a statement on February 5 following a trip around the region.
Nguyen Van Dong, director of Hau Giang Province's Department of Agriculture and Rural Development, said: "The province has planted 82,000 hectares of rice and it is growing well. The yield is likely to exceed six tons a hectare. With paddy prices now at VND3,800 – 4,000 a kilogram, farmers will make a profit of more than 40 percent."
A rice exporter in Can Tho exuded optimism: "We now have two forms of export contracts: one assigned by the Vietnam Southern Food Corporation and the other signed by us with our partners. It is not likely that rice will remain stockpiled in my warehouses for long."
Vietnam's exports to be delivered in February and March have fetched US$390 to 420 a ton, and helped raise the local price of 5 percent broken rice to VND5,500 a kilogram, VND800 up since before Tet.
Tran Khanh Lon, owner of a rice depot in Cai Rang District, Can Tho, said: "The rise is mainly due to the high demand from exporters shipping 25 percent broken rice to the Philippines."
For farmers, costs have also fallen considerably -- to just VND1,700 – 2,200 a kilogram, down from VND3,000 during the last crop -- as fertilizers and pesticides are cheaper because of falling oil prices.
The Institute said most of farmers in the delta have cultivated high-quality, fragrant rice varieties. The area under low-quality rice has shrunk from 30 percent to just 10-15 percent of the total area under the grain, it added.
2.8 mln tons of exports in first half

Global rice production would increase this year but demand would ease, the Food and Agriculture Organization (FAO) has predicted, setting off "fierce competition" among rice exporters.
To sustain Vietnamese exports, deputy Minister of Industry and Trade Nguyen Thanh Bien said his ministry would step up trade promotion. He asked the Vietnam Food Association to improve its forecasting capabilities to enable exporters and farmers cope with negative developments.
Truong Thanh Phong, chairman of the association and general director of Vietnam Southern Food Corporation, said, "We can export 4.5-5 million tons of rice this year, of which 2.7-2.8 million tons will be shipped in the first six months.
"We have signed contracts for 2.4 million tons."
The winter-spring crop harvest would peak by the end of March, he said, adding that with the existing stockpile of 800,000 tons, the availability of export-quality rice in the delta in the first half is likely to be 3.2 million of tons.