The Mekong delta region obtained a Gross Domestic Product (GDP) of 12.2 percent in 2010, doubling the country's average level (6.78 percent).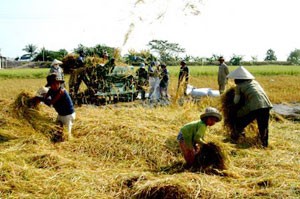 Harvesting rice crops in the Mekong Delta
According to the Steering Board of the Southwestern Region, over the past year, the region had a total social investment of over VND 153 trillion (US$ 7.2 billion).
The region gained a food output of nearly 21.6 million tonnes, more than 1 million tonnes over 2009, meeting domestic demands for consumption. The region exported 6.8 million tonnes of rice in 2010, the highest volume so far.
However, the region GDP per capita was VND 21 million VND (about US$ 1,000), lower than the country's rate.