The current freefall in rice prices in Mekong Delta after a wave of price hikes last week, which has caused severe concern to farmers, is just temporary, prices would bounce back and become stable soon, the general secretary of the Vietnam Food Association (VFA) has said.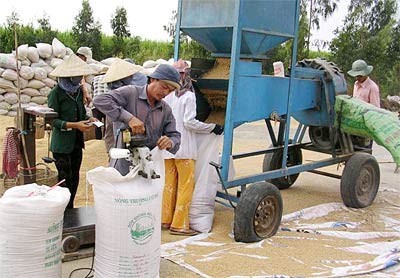 Farmers in the Mekong Delta husk rice (Photo: SGGP)
Merchants rushed to An Giang, Dong Thap and Vinh Long provinces to scramble for rice to supply to exporters when prices skyrocketed last week.
 
But prices have suddenly declined during the past two days and exporters have limited purchasing rice.
 
On September 9, a kilogram of normal-quality unhusked rice went for VND4,900-5,000, a kilogram of long-seed unhusked rice cost VND5,300, and sweet-smelling unhusked rice was traded at VND6,100-6,200 per kilogram, down VND300-400 per kilogram over a week ago.
 
Meanwhile, rice prices decreased by VND200-400 per kilogram, with normal-quality rice fetching VND6,800 per kilogram, long-seed rice costing VND6,900-7,000 per kilogram, and sweet-smelling rice going for VND7,500-7,600 per kilogram.
 
Nguyen Thanh Lam, a broker from Dong Thap Province's Lai Vung District, said it's impossible to predict rice prices now as they have being "danced".
 
He said rice sold well in late August and early September, but traders have unexpectedly stopped buying rice and rice prices have dropped during the last few days.
 
Rice prices and purchase power have reduced too at rice markets in Sa Dec, Dong Thap Province and Cai Be, Tien Giang Province.
 
Tran Van Phuong, a broker from Dong Thap Province's Lap Vo District, said he has just sold 10 tons of rice at breakeven price to exporters, so now he doesn't want to venture to purchase further rice amid falling prices.
 
Pham Thanh Thuan, head of the Industry and Trade Department of Hon Dat District, Kien Giang Province, said merchants came in a rush to the district to buy summer-autumn unhusked rice just last week, and many even paid in advance, but now only few merchants come.
 
Tran Quang Cui, Deputy Director of the Kien Giang Agriculture and Rural Development Department, said relative agencies need to take measures to keep prices of summer-autumn and autumn-winter unhusked rice at VND5,000 per kilogram to ensure profits for farmers.
 
According to VFA, rice prices soared sharply thanks to the Government's flexible management in exportation of rice.
 
The association said local exporters delivered the highest ever volume of over 800,000 tons of rice in August, while they had delivered an average of 400,000-500,000 tons per month in previous months.
 
Exporters are expected to continue to deliver about 800,000 tons this month, therefore, prices would rise again, VFA said.
 
VFA general secretary Hue said the association would do its utmost to manage exportation of rice to keep unhusked rice price at VND5,000 per kilogram on average until the end of 2010.
 
VFA forecast the global demand for rice would increase in last months of the year due to natural disasters and poor crops. Therefore, local farmers shouldn't bargain away their crops at low prices, he added.