Metropole Wedding & Convention Center has just organized the 1st ceremony of thanks on 600 clients, who had ever held the wedding in Metropole from February to August, 2014.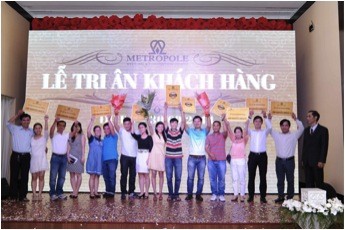 At the ceremony of thanks on 600 clients (Vi Vi photo)
The conference was attended from representatives of Trade & Promotion Department under Ministry of Industry & Trade and journalists in HCMC.
Three couples won lucky awards. Of these, the 1st prize worth VND 200million went to couple Nguyen Dong Duc & Hoang Huynh Nhu Ngoc (District 3); the 2nd prize, VND 100million, belonged Pham Lam Phuc (District 10) and Vo Cong Thanh and Hoang Thi Song Hieu are bagged the third one worth VND 50million each.
Mr. Huynh Van Van, director of Metropole said the 2nd & 3rd ceremonies will continue taking place from now to the year-end. Metropole will spend around VND 1billion for the event.