With an impressive growth rate in less space and smaller capital requirement, convenience stores and mini-supermarkets are finding favor with investors.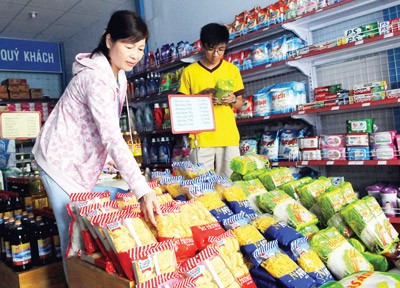 A convenience store of Co.op in Phan Dinh Phung Street in District Phu Nhuan (Photo:SGGP)
Explaining reason for switching from shopping in a big supermarket to a mini supermarket near her house, Bui Thu Thao in District 1 said she can easily control spending in a smaller store where she is not inundated by promotional programs and piles of commodities to choose from.

Like Thao, a number of consumers are choosing to shop in mini supermarkets or convenience stores now.
This shows a change in shopping patterns in urban Vietnamese, who are buying more goods but at stable prices while also saving on the time factor.

According to a recent survey by Kantar Worldpanel, mini supermarkets and convenience stores have seen growth rate of 74 percent higher while for big supermarkets growth has been at around 6 percent.

Two years ago, around 10 percent households in urban districts chose convenience stores once a year. This year at least one household out of five chooses a convenience store once a year.
Kantar Worldpanel predicts soon every household will go to mini supermarkets or convenience stores once a year.

Local and international retailers do not want to miss this chance. Many big supermarkets have switched to convenience stores. For instance, Saigon Co-op set up Co-op Food, Citimart launched B&B convenience store, Satra has Satra Food convenience chains,  Big C with New Cho and Express, and many different names such as Circle K, shop & go, Ministop, Family Mart.

Investors just spend VND2.5 billion( US$118,749) on an area of 50-200 square meters while they need hundreds of billions and an area of tens of thousands of square meters to set up a big supermarket.

Moreover, the payback period in mini supermarkets and convenience stores is quite fast.

At present, 2-3 mini supermarkets or convenience stores are mushrooming in residential blocks every month.
This trend will not stop in the future as retailers plan to grow more chains. For instance, Saigon Co-op targets to have 150 stores by 2015. Similarly,  Satra plans to develop 20 to 50 stores as soon as possible.

Foreign investors make no secret of their desire to dominate the retail market. Japanese retailer Family Mart has made a comeback in Vietnam's retail market with a Ho Chi Minh City-based store. As per its plan, Family Mart will set up an additional 20 convenience stores by year end.

When it comes to Family Mart, people remember bidding farewell to the Japanese retailer and local distribution and retail firm Phu Thai Group JSC.

Phu Thai Group has developed a new retail brand B'smart. Thai Beri Jucker Plc (BJC) has jumped into the Vietnamese retail market by buying equities of Phu Thai. According to plan, 20 B'smart convenience shops would be opened in Ho Chi Minh City by end of 2013 to increase the total number of shops to more than 60.

Yet a coin has two sides. Challenges of setting up a convenience store or mini supermarket is that leasing price will increase year by year, investors will face difficulties in maintaining operations in a fixed place.

Furthermore, when the economy improves, people will prefer to go to big supermarkets where piles of commodities are displayed with various promotional programs.