The Ministry of Finance and the Ministry of Industry and Trade on February 24 instructed wholesale businesses to keep petrol prices steady in order to stabilize the prices of necessary items in the market.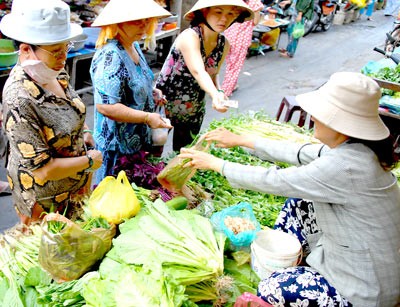 Vegetable prices have reduced after Tet holidays (Photo: SGGP)
The price has been capped at VND15,686 a liter of Ron 92, VND15,356 for E5 gasoline ethanol blend and VND15,183 for diesel. 
Kerosene and engine oil prices are not permitted to surge more than VND15,623 a liter and VND11,861 a kilogram. 
Businesses have also been ordered to reduce contribution level to the price subsidization fund by VND40 to VND300 a liter of gasoline and 0 dong to E5. 
The contribution rate slides to VND300 a liter of diesel and kerosene but increases by VND30 to reach VND300 a kilogram of engine oil.