The Ministry of Finance Wednesday agreed with a suggestion of petrol companies to cut down the retail prices of fuel by VND 1,000 a liter for the second time within ten days.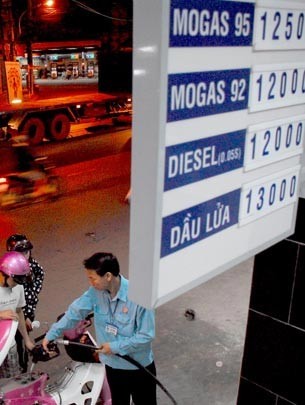 Petrol prices will be cut by VND1,000 a liter (Photo: Tuoi Tre)
The popular A92 fuel will cost VND11,000 a liter, kerosene 12,000 a liter.
The ministry permitted enterprises to decide the moment to carry out the cut. Several companies such as Petrolimex, Saigon Petro were ready to cut the prices on Wednesday.
Along with the cut, the ministry announced to increase import tariffs on petrol products by further five percentage points.
According to the announcement, tariff on gasoline, kerosene and aviation fuel will be increased to 40%. On diesel, the tax will be 25%. The new rates will take effect on Thursday.