Last week the country's three biggest mobile operators hiked average 3G tariffs by 20 percent and prices of unlimited packages by 40 percent.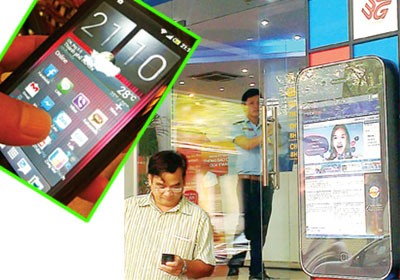 Subscribers are not amused by the second massive hike in 3G fees this year by Vinaphone, MobiFone and Viettel.(Photo:SGGP)
Subscribers are not amused for it was the second massive hike in 3G fees this year by Vinaphone, MobiFone and Viettel, who together control 95 percent of the market.
The operators justified their decision by saying that telecom firms are prohibited from offering services at lower than cost and that they have to make up the losses suffered from low prices in the beginning.
They said 3G prices in Vietnam are still only a 10th of Chinese tariffs and a 40th of that in Europe.
Viettel said the new rates are close to cost, VinaPhone said it plans to use the higher revenues to improve its network, while MobiFone said it needs the money since the number of 3G users is substantially and the network needs to be expanded.
Whatever their claims, 3G service providers have managed to make great profits over the last few years.
Viettel, for instance, achieved a turnover of VND141.42 trillion (US$6.7 billion) in 2012, a 21 percent rise from the previous year, and profits estimated at VND22-23 trillion ($1.04-1.09 billion).
Critics said a 40 percent increase was too steep, especially for students who need to use the internet a lot for their studies.
The companies may claim tariffs in Vietnam are the lowest in the world, but the country's average income is also much lower than that of many others.
Worryingly, there are signs of alleged collusion between the three dominant companies, which have increased tariffs by the same amount at the same time.
But since they account for almost the entire market, 3G users have no choice but to continue using the services and shell out more.
Authorities are duty-bound to investigate if the companies have formed a cartel.
To rub salt into consumers' wounds, mobile operators periodically ratchet up prices but do little to improve quality.
A survey by market research firm Nielsen and Vietnam Post newspaper in Hanoi, Da Nang, and Ho Chi Minh City last year found that despite the strong growth in 3G demand, customer satisfaction was down to 64 from 71 per cent in 2011.