Six Vietnamese companies are now permitted to send workers to Australia, the Labor Ministry announced yesterday.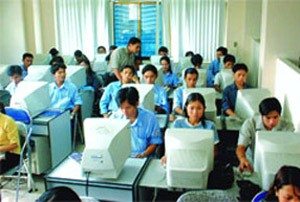 Workers learn how to use computers before working abroad
One is the Vietnam Automobile Industry Corporation (Vinamotor), which has been supplying Australia with guest workers since October 2005, while the other five are newly licensed to engage in the trade.

They are Export Import and International Manpower Supply Joint Stock Co. (known as IMS), Labor Overseas Deployment Corp. (LOD), General Construction Co. 4, the National Oil Services Company of Viet Nam (OSC), and International Labor Supply Co.

Before awarding the licenses, the ministry's Overseas Labor Department appraised the companies' labor export contracts and deemed them suitable.

For now the people being sent Down Under are cooks, welders, carpenters and engineers who hold a vocational certificate issued by Australia and speak passable English.

Their basic yearly salary is AUD41,850 (roughly USD33,500 at the moment).