More and more Japanese firms intend to expand their business in Viet Nam, said the Japan External Trade Organization (JETRO) in Viet Nam.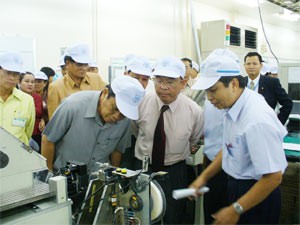 Ho Chi Minh City Vice Chairman Nguyen Thanh Tai (C) visits MTEX Corp., a Japanese electronic component and chip manufacturer (Photo: T.Kh.)
JETRO conducted an annual survey on international operations of Japanese firms in November and December 2006 and received replies from 729 firms, or 28.7% of the 2,537 companies sent questionnaires.
This is the second straight year Japanese firms have expressed their willingness to expand sales operation in Viet Nam, reflecting strong economic growth and expanding market in the country.
According to the survey, transfer from China to Viet Nam remained one of three notable transfers of Japanese firms in the recent and coming years.
Transfer from China to Viet Nam was attributed to "increase in production and labor costs" and "high risks of placing all functions in the same place", as firms adopted the " China plus one" strategy i.e., investing in China and another country to reduce over dependence on China .
However, Japanese firms were aware of the risks from "underdeveloped infrastructure" for doing business in/with India and Viet Nam, the survey said, adding that while citing obstacles ahead - mainly due to poor or inadequate infrastructure, in particular in electricity and logistics fields - firms showed increased interest in the two countries.