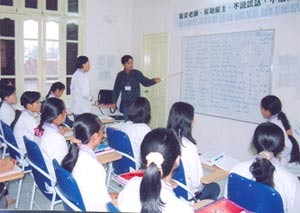 Vietnamese laborers take a training course before going abroad to work
The good news is that up to 30 job placement companies in Viet Nam have signed contracts to send Vietnamese labor to the Middle East, mostly the United Arab Emirates (UAE), Qatar and Saudi Arabia, according to the Overseas Labor Management Department.
More than 10 companies sent over 2,000 Vietnamese workers to the Middle East between January and September, with Airserco, Vinaconex and Viet Ha making better performance than the others.
So far, more than 6,000 Vietnamese workers have been working in the Middle East, including over 5,000 in UAE. An unskilled laborer earns about US$200 monthly on the average, and that for a skilled employee ranges from US$300 to US$1,000.