According to the Vietnam Leather and Footwear Association (Lefaso), a survey of behavior pattern of most Vietnamese customers revealed that they prefer purchasing mainly domestic-made shoes.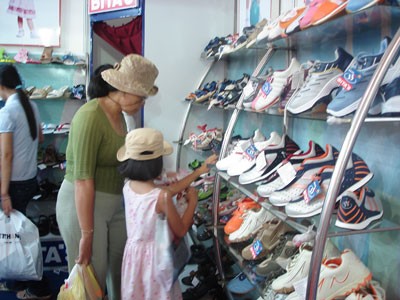 The filed photo shows customers choosing Vietnamese made shoes (Photo: U. Phuong)
Almost two-third of Vietnamese consumers said that they will purchase local shoes while one-third said they would buy only imported brands.
Three well-known shoe brand names were preferred in the top ten list, namely, Biti's, Thuong Dinh and Vinagiay.
Lefaso conducted a survey of more than 1,000 participants from Hanoi, the northern provinces of Hai Phong, Thanh Hoa, Ho Chi Minh City and the southern province of Binh Duong.
The survey will help enterprises to keep abreast of demand and develop strategies accordingly for product design, pricing and distribution.