An unfamiliar scene has recently been seen in the country's biggest granary, the Mekong Delta, where local farmers and wholesalers have imported tons of rice, mostly from Cambodia, to meet the increasing demand for rice on the domestic market.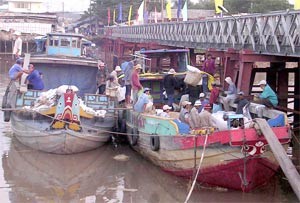 Rice is imported from Cambodia to the southern provinces of Viet Nam

According to the An Giang Provincial Department of Agriculture and Rural Development Director Nguyen Van Phuong, about 200,000 tons of rice has been imported from Cambodia.

Local farmers have provided farmers in Cambodia with equipment and technical aid and, after the harvest season, Cambodian rice is to be sold to Vietnamese wholesalers in An Giang, Mr. Phuong added.

According to a rice wholesaler at the Tinh Bien border gate, the imported rice is sold at VND3,000-4,000 per kg depending on its quality.

Similar imports have also been seen in other southern provinces, including Long An, Dong Thap and Kien Giang.

Viet Nam Food Association General Secretary Nguyen Thi Nguyet said most of the imported Cambodian rice is of good quality and the country needs more imported rice to cope with shortages and curb a recent surge in rice prices.

According to Long An Food Company Director Truong Van Anh, rising global rice prices, floods in central provinces, recent hikes in petroleum and fertilizer prices and a limited amount of rice remaining in the Mekong Delta are the four factors blamed for surging rice prices.

The total area available for rice cultivation in the Mekong Delta has shrank by 94,000 hectares this year and the region is expected to lose more next year, said Mekong Delta Rice Institute Head Le Van Banh.

The Ministry of Agriculture and Rural Development has directed local farmers to make use of modern technologies in rice cultivation to maintain the region's rice output of 18 to 19 tons a year.

Many Mekong Delta provinces have prepared to grow 1.5 million hectares of autumn-winter crop which is expected to yield 9 million tons of rice.

Meanwhile, winter-spring crops are being harvested in other southern provinces including Bac Lieu and Soc Trang. The newly harvested rice and imported varieties are expected to stabilize the domestic rice market over December.