Several provisions of a new draft circular on imported autos impose unfair restrictions on small and medium-scale firms, according to the Vietnam Chamber of Commerce and Industry (VCCI).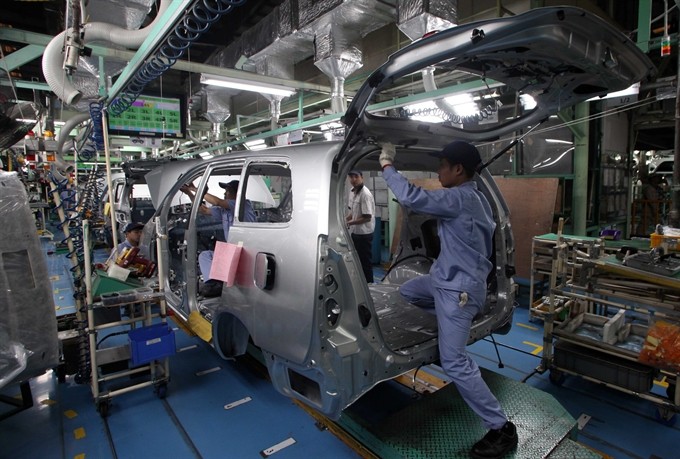 Workers assemble parts at the Toyota Phúc Yên Automobile Factory. (Photo: VNA/VNS)
Responding to a draft circular released by the Transport Ministry (MoT) to collect feedback from relevant ministries and other agencies, the VCCI said some of the new rules would hurt those importing vehicles through distributors.
The circular deals with technological inspections, safety, quality and environmental protection with respect to imported road vehicles.
The latest circular's regulations would have impacts similar to the one issued by the Ministry of Industry and Trade (MoIT) (No. 20/2011/TT-BCT) on procedures for importing passenger cars with nine seats or less, the VCCI said.
Almost five years after it was issued, the circular was abrogated last month after it was found to have negatively impacted small and medium sized car importers.
The VCCI also said it was very concerned about a provision in the circular that requires car importers to have the original certificate of quality or a roll-out quality certification.
The chamber said the regulation would cause difficulties, especially for those who import cars through distributors, because they would be unable to get the original certificates.
"The regulation creates (favourable) conditions for businesses who directly import cars from automakers, but will hurt those who import cars through distributors. This regulation is not different from the MoIT's Circular 20 that required import procedures designated or authorised by official carmakers," the VCCI statement said.
Both Circular 20 and the MoT's draft circular heavily favour foreign automakers and ignore the rights and interests of Vietnamese consumers, according to the VCCI.
The VCCI said that if a vehicle did not have the original certificate of quality or the roll-out quality certification, it could be examined by the Vietnam Register (VR) to see if it meets the technological, safety and environmental standards required under Vietnamese laws.
Any requirement that imported autos would have to have original certificate of quality or roll-out quality certification and undergo a VR examination would mean a vehicle would have to be examined twice, making it more expensive for customers who would have to bear the costs, the VCCI said.
SME importers agree
The Small and Medium Automobile Importers' Association has also written to the Transport Ministry, sharing VCCI's opinion.
The association pointed out that the Government Resolutions 19 and 35 aimed to improve the investment environment for small and medium enterprises to develop.
Towards this, several administrative procedures were obstacles that need to be removed. However, the MoT's draft circular required even more procedures to be completed for importing a vehicle, it said.
The association requested the ministry to seriously and thoroughly consider their proposals before officially issuing the circular. The circular should not only ensure the quality of imported vehicles, but also create favourable conditions for small and medium enterprises to compete with bigger businesses, it said.
Ministerial support
Meanwhile, the draft circular has received support from the MoIT, which said it was necessary and in accordance with provisions of the 2014 Law on Environmental Protection.
The MoIT said the circular should have a supplemental provision requiring importers to produce certification covering safety, quality as well as environmental protection.
In the absence of such certification, the procedures to certify the quality of imported cars would be the same as locally-assembled cars. Otherwise, it would be unfair on local automakers and assemblers because they have already invested in workshops and other facilities, it said.
Trần Kỳ Hình, director of the Việt Nam Register, affirmed that regulations in the draft circular were only technical barriers and would not restrict business rights and number of import vehicles of import firms.
Used cars costlier
The prices of imported used cars could be higher than new ones under a new decree on import taxes issued by Prime Minister Nguyễn Xuân Phúc.
Decree 122/2016 NĐ-CP, which took effect on September 1, fixes a US$5,000 tax on cars with engine displacement of below 1,000cc, and a $10,000 tax on used cars with engines between 1,000cc and 1,500cc.
For car models with nine seats and lower and engine displacements between 1,500cc and 2,500cc, the import tax will be calculated as follows: import price multiplied by the tax rate for new similar models plus $5,000. For used cars with 2,500cc engines and above, the import tax will be the import price multiplied with the tax rate for new models plus $15,000.
This will significantly increase the prices of used cars. For example, for a used 2000cc Toyota Camry with an import price of $15,000, the import tax will total $15,500, and the car's final price at customs will be $30,500. This price does not include other taxes like the special consumption tax, value-added tax and corporate fees.
The decree effectively shuts the door on the import of used cars.
The decree also fixes import duties on used vehicles with 10-15 seats, depending on their engine displacement. Vehicles with engine displacement of 2,000cc and below, over 2,000cc until 3,000cc, and more than 3,000cc will attract taxes of $9,500, $13,000 and $17,000, respectively.