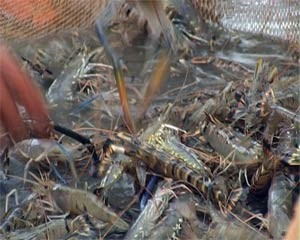 Prawns and crayfish bred together at Nguyen Van Tiep's farm in Tra Vinh Province
Nguyen Van Tiep, a shrimp breeder in Tra Vinh Province, has successfully bred crayfish and prawns in the same environment, an idea that could prove more effective than previous methods that raised them separately.
Of up to 90,000 prawns and 50,000 crayfishes bred, seventy percent of the prawns and 75 percent of crayfish survived. The method produced more than 3 tons of prawn per hectare while crayfish output reached nearly 2 tons per hectare.
This impressive performance ushers in new opportunities to breed shrimp and prawn together without separating their operations, which could increase output and productivity.
Tra Vinh Province has been already famous nationwide for its Vinh Kim dried shrimp.