The International Urban Development and Investment Joint-stock Company (IDJ) is looking for foundation shareholders to help its Enterprise Trading Investment-Fund Joint-stock Co. emerge prominently in Viet Nam.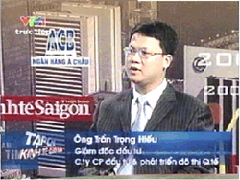 IDJ Director Tran Trong Hieu
IDJ has contributed VND51 billion of the project's VND100 billion (US$6.25 million) registered capital, representing 51 percent of the whole while 49 percent is divided into 49 one-billion-VND shares to go public.
 
All who are interested, whether Vietnamese, overseas Vietnamese or foreigners can become foundation shareholders in the fund.
 
After foundation, the IDJ Fund, registered as a company, will operate under the umbrella of IDJ and ally itself with a U.S.--Hong Kong investment fund to raise investment capital to about VND1 trillion (US$62.5 million).
 
The fund company will purchase potential companies at cheap prices and restructure them to optimize profits. The fund company will then either list the restructured companies on the exchange for sale to investors or continue the business under IDJ.
 
IDJ Director Tran Trong Hieu said the company trading market has enormous potential. According to IDJ's surveys, about 42 percent of 300,000 businesses operating in Viet Nam will have to be merged or sold due to fierce market competition after Viet Nam's entry to the World Trade Organization.
 
Over 20 companies are offered for sale daily at IDJ.  Some are lacking capital or have no manager. Some do not have a market or simply cannot compete.