The Ministry of Finance (MOF) issued a new decision July 28 on new regulations for preferential export and import tariffs to be applied beginning September 15.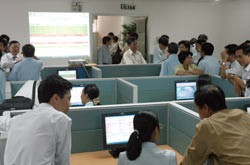 New preferential export and import tarriffs will be applied from September 15.
Tariffs on sixteen goods, most of them produced in the country, have increased, while 117 goods-groups made a reduction adjustment.
Civil electrical and electronic products are now set for favored nations at an import tariff of 30%-40%, down from 40%-50%.
Many tariffs have been cut by as much as 35%, such as aviation industry materials and other products that can not be produced in the country.
The import tariff for whole motorbikes is also reduced from 100% to 90%.
On the other hand, tariffs on zinc-plated and painted corrugated irons increased from 10% to 12% and the tariff on rolling cool steel increased to 7%.
With the new tariffs, tax categories have been re-divided and the number of tax headings has increased to over 400 headings.