A conference for investment and promotion in the central province of Nghe An, was held in Vinh City on February 7 to discuss policies by the Party and the government to help prevent economic recession, retain economic growth and guarantee social security.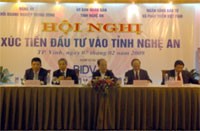 Delegates at the investment conference in Nghe An Province February 7
At the conference, 31 agreements were signed with 22 construction projects such as Hoang Mai 2 and Do Luong 2 cement factories, Hoang Mai Steel Factory, Vinh Trade Center, a logistics center, an ecological tourist area in Nam Dan District, a wine factory, and an Ethanol factory.

The conference was held by the Bank for Investment and Development of Vietnam (BIDV) and Nghe An Province and attended by the Permanent Deputy Prime Minister, Nguyen Sinh Hung.