Many toy shops in Hanoi along Hang Ma, Luong Van Can and Giang Vo Streets are already beginning to stock an assortment of toys in preparation for the forthcoming Mid-Autumn Festival, with no regard to the quality of these toys.
Chinese made toys, without quality stamp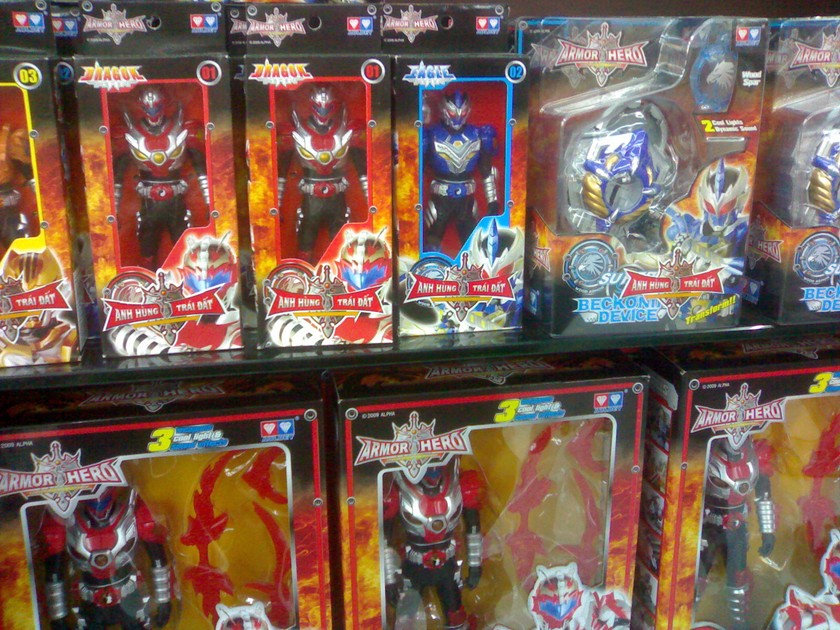 Many toys in shops have no quality-stamp(Photo: U. Phuong)
Most of the toys displayed in shops along Hang Ma, Hang Can, Luong Van Can Streets and Dem market, Dong Xuan market are made-in-China and are beautifully designed and attractively presented.
According to Nguyen Trung Duc, a toy shop owner on Hang Ma Street, traditional Mid-Autumn items such as paper lanterns, Hoi An lanterns, star lanterns and wooden drums do not sell very well.
On the other hand, Chinese made toys like tiaras, butterflies, angel wings, talking dolls, model dolls, stuffed animals and plastic masks sell like hot cakes, thanks to their attractive designs and cheap affordable prices.
When asked about quality-markings on the products, almost all shop owners beat around the bush with answers. They justify that cheap prices, attractive designs make it worth their while. Some feel stamp markings are not necessary nor are they a guarantee as customers rarely check that and besides the stores guarantee the quality with their own name.
Customers indifferent
Though the government banned all children toys without quality certificates from selling in the market, a large number of unmarked toys flood the shops. Not only are the businesses ignoring the ban but the consumers too are indifferent, paying more attention to price, design and little to a child's safety. Some are even unaware of the ban.
Ta Hoang Long, while choosing toys for his child on Luong Van Can Street, said that he was only aware of a ban on dangerous toys like plastic guns that were made in China.
Many shop owners also mentioned that as toys with quality-stamps were 20 percent higher than others, they were not on the priority list of parents.
From August 15-19, the market management team in Hanoi launched a campaign to check all toy stores and find any breach of law. They collected 572 smuggled toys and 30 cartons of harmful violent toys, all made in China.
According to Nguyen Truong Son, deputy head of the market management team, toy sellers nowadays have many cunning ways to deceive both customers and authorities. They intentionally mix qualified toys with unqualified ones to cause confusion for inspection teams.
They also use fake stamps to stick on items. However, the team is planning on a more thorough and careful check of each toy store in Hanoi, especially during the Mid-Autumn Festival period. The Department will also warn consumers of being more cautious when buying toys for children.