After a decree was issued by the Prime Minister's office on April 3 that gold bars would be traded by only state monopolies, concerns among the public and gold companies have grown, since there is still no clear roadmap or regulation for conversion of non-SJC gold bullions.
Owners of other brands of gold bars are worried and many people rushed to sell off their bullion investments. However, many brands have few takers or are offering very low purchase price.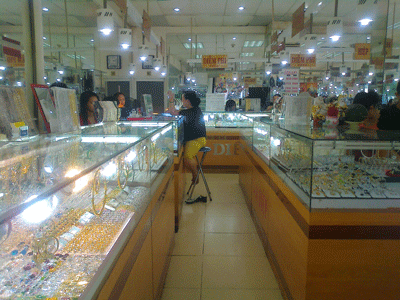 Many gold shops taking advantage of a crisis sale and are buying other brands at lower rates (Photo: U.Phuong)
Many gold shops in markets like An Dong in District 5, Ba Chieu in Binh Thanh District and Go Vap in Go Vap District are taking advantage of a crisis sale and are buying other brands at lower rates, as they explained that these bars would only be melted down or converted into ornaments.
Meantime, Phu Nhuan Jewellery Joint Stock Company (PNJ) and Sacombank Jewellery Co (SBJ) maintained buying its own brand products at high prices equivalent to that of SJC.
Cao Thi Ngoc Dung, PNJ's Chairman said her company still purchased its own products at listed prices and if clients required, the company will straight away exchange PNJ gold bullions to SJC, to protect customer interests.
Relating to the new gold management law, Dung said that it will eliminate hoarding of the precious yellow metal; hence, capital will be poured into production, expectedly pushing up the country's economy.
The draft circular said that enterprises and credit institutions can continue trading gold six months from the effective date of the circular, but they must complete business registration with the registration agencies and submit a business licence application to the central bank for future gold sales.
For organisations that are engaged in the production of gold jewellery and fine art, the switch can be made 12 months from the effective date of the decree.
The State Bank of Vietnam (SBV) ordered five banks including Asia Commercial Bank (ACB), Dong A Bank, Vietnam Export Import Bank (Eximbank), Saigon Thuong Tin Commercial Joint Stock Bank (Sacombank), Vietnam Technological and Commercial Joint- stock Bank (Techcombank) and Saigon Jewellery Company to send detailed reports of expansion plan in every district in the country for meeting the demands of domestic gold consumers.
A director of a gold company said the state bank should set up clear roadmaps or regulations for the conversion of non-SJC gold bullions into a state brand.
Moreover, he added that the state bank should adopt measures to guarantee the rights of people during the conversion period since the producers of non-SJC gold bullions were previously licensed by SBV, and the central bank should be responsible for preserving the gold value for owners of non-SJC gold bullion.
Saigon Jewellery Company collected the metal at VND43.32 million at 11am Vietnamese time and sold for VND43.52 million as of 10.15am Vietnamese time. Meantime, Sacombank Jewellery Company quoted price of SBJ and SJC at VND43.5 million for buying and VND43.6 million for selling.
Related article:
Restrictions on bullion-related businesses