METALEX Vietnam 2011, a machine tools and metalworking technology trade exhibition and conference, will take place in Ho Chi Minh City on October 6-8 together with another show on assembly, measurement and testing technologies for electronics manufacturing, the organizers have announced.
The other exhibition is called NEPCON Vietnam, Mr. Chainarong Limpkittisin, managing director at Thai company Reed Tradex, told a press briefing in the city Thursday.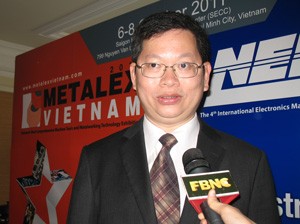 Reed Tradex managing director Chainarong Limpkittisin briefs METALEX Vietnam 2011 to media on Aug. 25 in Hochiminh City (Photo: Tuong Thuy)
The Thai company and its Vietnamese partner Eifec Company organize the two shows at the Saigon Exhibition and Convention Center in District 7, he added.
He said the event would display about 700 brands from 25 countries and territories, including six group pavilions from China, Japan, Korea, Singapore, Taiwan and his country Thailand.
"We will have a complete range of the word's top-five brands of machine tools and metalworking technology, top-five brands of surface-mount technology and soldering technology, leading mold-making or technologies in local markets…
"In addition, we will also be providing insightful knowledge on new technologies and trends from industry gurus in on-site seminars," he said.
The manufacturing and supporting industries not only have a bright future but also play vital roles in the well-being of the economy, the Thai executive said.
"I must say that I'm excited for the future of Vietnam whose economy and industries have seen so much growth in the past two decades; especially in the last few years, during which the growth has been rising so fast – particularly in the manufacturing and supporting industries.
"I've read a report from the Ministry of Planning and Investment that the Index of Industrial Production of Vietnam in June hit a record high of 12.7%. The manufacturing and processing industries, which account for nearly 70% of the industrial sector's total added value, contributed the most with a surge of 16.3%."
The event will introduce robot "Titan" which will fly in direct from the UK, he added.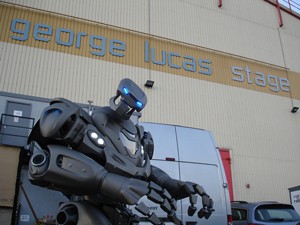 Titan the robot on September 22, 2010 outside the George Lucas Stage where the Star Wars films were made (Source: www.titantherobot.com)
The world-renowned giant robot, designed and built by Cyberstein Robots Ltd. in England, will perform everyday during the two shows, three times a day, he said.
"You may ask why Titan. Its body is a proof of the excellence on the machine tools and metalworking innovations as its abilities are the testament of the peak of electronic technologies, so Titan's performances will inspire the industrialists and bring to them the future of technologies which are available now."