The national steering committee of the ASEAN one-stop-shop (OSS) mechanism launched a project to create national single windows (NSW) at international seaports.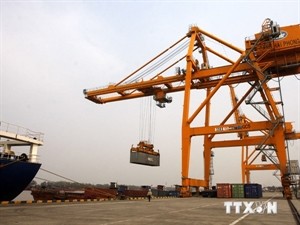 One-stop-shop model will be applied at international seaports (Illustrative image: VNA)
A single window allows trading partners to declare imports/exports when transiting to and from their respective countries at only one service point.
Deputy Prime Minister Vu Van Ninh highlighted the significance of the project, which comes at a time when Vietnam is becoming increasingly integrated into the world and securing trade ties with approximately 220 nations and territories.
The adoption of NSW sets the scene for Vietnam to become one of the region's leaders in terms of reforming and simplifying administrative procedures for import-export products, entrance and exit, and transit.
Eight different ministries and sectors are involved in the procedure. They are expected to join the system and promote Vietnam's prompt connection to the ASEAN Single Window (ASW) mechanism.
The system will initially be applied at seaports in Hai Phong, Ho Chi Minh City, and Ba Ria-Vung Tau.