A seminar titled 'Building brand names and developing e-commerce for Vietnam's small- medium enterprises (SMEs)' was organized by Vietnam E-commerce Association (VECOM) and relevant agencies in Can Tho city on October 28.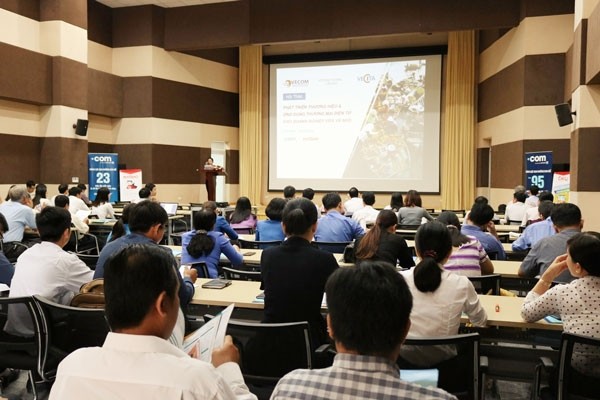 The seminar takes place in Can Tho city.
According to the VECOM, the online retail sales accounted for more than US$ 4 billion in Vietnam last year; and it is expected to top US$ 10 billion by 2020 being estimated by 5 percent of Vietnam's total revenue from online retail trade.
With such growth, the online sales model has been highly appreciated in the country in the recent time; however, many domestic enterprises have not still paid much their attention for this business model.
The recent research results showed that around 20 percent of SMEs established the website advertising models. However, 70 percent of web pages are difficult to view or sign in via mobile phone. Thus, the VECOM stressed that a website is needed for businesses but the development of website is one of the first important steps for e-commerce because it contributes affirming the brand names as well as rising competitive quality in the domestic and international markets.