General consensus at a conference held by the Ministry of Agriculture and Rural Development in Can Tho City was that this year local farmers and companies will face many challenges to achieve a target of US$2 billion in pangasius fish exports.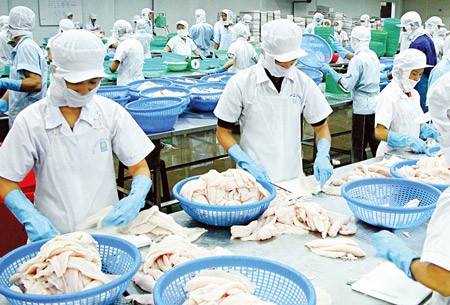 Workers process pangasius fish for exporting. (Photo: SGGP)
Despite difficulties in the past, pangasius exports have shown impressive results last year with production touching 1.2 million tonnes and export turnover exceeding US$1.8 billion, up by 26.5 per cent compared to 2010, thanks to combined efforts of pangasius breeders, processors, exporters, the government and relevant agencies.
Vietnam's pangasius fish is exported to 135 countries around the world, of which exports to the European market account for 29.1 per cent, and to the US market 18.4 per cent. Pangasius fish exports accounted for 29.5 per cent of the total seafood export turnover in 2011, second only to shrimp exports.
Minister Cao Duc Phat of the Ministry of Agriculture and Rural Development said that the country's pangasius industry is still facing many challenges. Breeding has not yielded higher profits, and some breeders have even suffered losses.
These past years, some failings in breeding stock, poor quality fish feed; high interest rates, epidemic diseases, and the quality of processing products have proved a setback.
Agriculture and Rural Development departments of the Mekong Delta provinces admitted that market movements had directly affected   pangasius breeders. The price of pangasius fluctuated wildly, causing hardships for local farmers. Some seafood processors did not comply with contracts signed with farmers.
In the past year, fish feed prices rose seven times higher. A tight monetary policy and sharp rise in dollar exchange rate had caused fish feed to surge by 16-30 per cent. However, fish feed quality has fallen, while aquatic veterinary medicines climbed by 10-20 per cent, pushing breeding costs up.
Nguyen Huu Dung, deputy chairman of the Vietnam Association of Seafood Exporters and Producers, expressed his concern about breeding stock as low quality breeding stock cannot produce high quality pangasius fish. However, now fewer companies invested in producing breeding stock.
Duong Ngoc Minh, general director of Hung Vuong Seafood Company, believed that exports of pangasius fish might reach $2 billion this year if credit resources are invested reasonably. According to his calculation, VND26 trillion is required to raise around 1.3 billion tons of pangasius fish.
Earlier, farmers and companies had access to three capital resources, of individuals, fish feed producers, and banks. However, they can only borrow from one channel now. The breeding cost will hike if breeders and companies are hit by credit crunch. Whereas, with sufficient capital, the breeding cost might drag to VND20,000 a kilogram, he said.
Minh said that the price of pangasius fish will stay stable at VND26,000 until the end of October this year. Nevertheless, many farmers in An Giang Province said that the prices are unsteady, citing that in March 2011, the price of pangasius fish unexpectedly plunged to VND22,500 per kilo from a record high of VND28,000 per kilo, sending several breeders into distress.
Pangasius prices depend on production instead of management. Farmers fret about the situation that firms spontaneously change their requirements for pangasius fish or settle their payments late.
Meanwhile, unfair competition continues. Some countries set numerous technical barriers against Vietnam's pangasius fish while unfair internal competition and dumping inhibited the development of pangasius industry.
Minister Cao Duc Phat has set a target production of 1.2-1.5 million tons of pangasius fish this year, and export turnover of $2 billion. He has also ordered relevant departments to control the quality of breeding stock and fish feed.
The State Bank of Vietnam also instructed its local branches to estimate the demand of breeders and producers so as to lend timely support. MARD will be in charge of building up information and image of Vietnam's pangasius fish and promote pangasius products around the world, as well as protect pangasius products from unfair competition.