The Mekong Delta provinces recently exported a further 15,000 tonnes of pangasius fish, raising the total export volume of pangasius fish since the beginning of this year to 65,000 tonnes, an increase of 4,000 tonnes year on year, valued at US$195 million.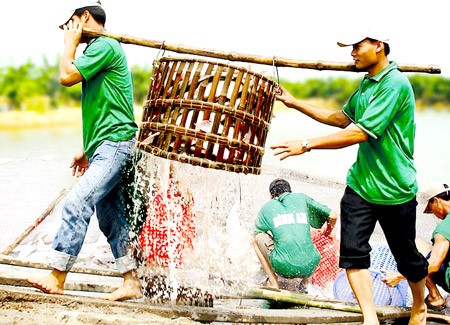 Farmers harvest pangasius fish. (Photo: SGGP)
Earlier, the Ministry of Agriculture and Rural Development had instructed farmers in the Mekong Delta to improve the quality of pangasius fish to meet international standards, for instance SQF 1000 and Global GAP.
This year, farmers plan to export 600,000 tonnes of pangasius fish. In order to meet their target, they have bred the fish over a 6,000 hectare area in Dong Thap, An Giang, Tien Giang, Vinh Long, Hau Giang, Ben Tre Provinces, and Can Tho City.
In related news, while low-quality rice growers are struggling to sell their crops, high-quality ones are enjoying a steady rise in rice prices. According to traders in Tien Giang, Long An and Dong Thap Provinces, the price of high-quality paddy has continually climbed since the start of an early winter-spring crop.
Tran Van Dung, a trader in Cai Be District of Tien Giang Province, said that some days the paddy price even rises by VND50-100 per kilogram. Before the Tet holidays,  traders bought fresh paddy at VND6,400-6,500 per kilogram, but the price has risen to VND6,700-6,800 per kilogram now and dried paddy was bought at around VND7,300-7,500 per kilogram, while dried low-quality rice was bought at only VND5,400-5,600 per kilogram.