The price of first grade pangasius fish rose suddenly on Feb. 5 to VND26,000-27,000 per kilogram in the Mekong Delta provinces, raising profits to VND3,000-4,000 per kg for local breeders.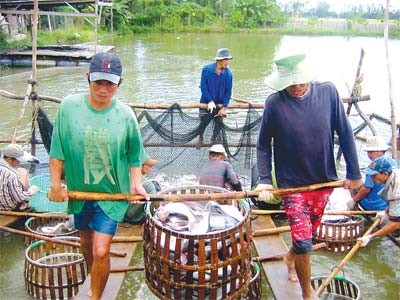 Farmers harvest pangasius fish in Mekong Delta.
According to seafood processors, importers around the world have increased orders for pangasius fillet recently, and with supply not being able to meet demand there is now a surge in pangasius prices.
The Vietnam Association of Seafood Exporters and Producers said that although local firms faced many difficulties last year, pangasius exports still reached US$1.8 billion, up by 26.5 per cent compared to 2010. This year, the association is targeting $2 billion from exports.
In related news, fishermen in Vinh Linh and Gio Linh Districts of Quang Tri Province enjoyed one of the best Babylon snail seasons this past week. One boat with two or three fishermen brought in an average of 50-70 kilograms of Babylon snails in just two days out at sea, with some even bringing in 150-200 kilograms. One fisherman is expecting to earn VND2-3 million per day, after expenses.