According to Do Ha Nam, chairman of the Vietnam Pepper Association, pepper exports in both volume and value increased by 23.5 percent and 20 percent in the first quarter of this year compared to the same period last year.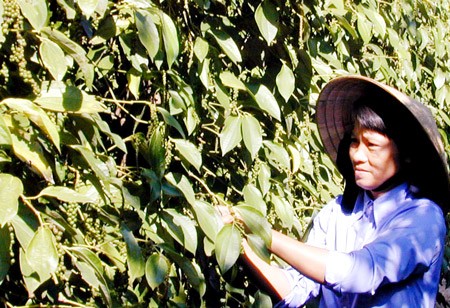 A farmer harvests pepper in Phu Quoc Island in the Mekong Delta province of Kien Giang (Photo: SGGP)
The country exported more than 38,300 tons of pepper, bringing in a turnover of US$254 million, which is a record in volume and value.
About 40 percent of harvested pepper crop this year was exported.
Recently, the domestic price has fallen by VND5,000 a kilogram but still stands high at VND115,000 a kilogram.
The Vietnam Pepper Association said that the world pepper price might remain at a high US$5,000-6,000 per ton in coming months.
Vietnam's pepper accounts for 30 percent of the world output and 50 percent of volume traded in the world market.