The average price of cooking gas (liquefied petroleum gas –LPG) has reduced by VND40,000 a tank, gas companies announced yesterday afternoon.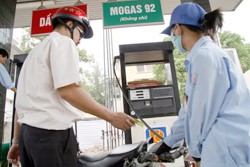 Reduced price of petrol helps consumers feel more comfortable. (Photo: Thanh Nien)
Accordingly, the retail prices of many gas companies like Petrolimex, SP, Vinagas, and Gia Dinh have fallen to between VND193,000 and 203,000  for a 12kg cylinder.
This is the second reduction in gas prices for the week, and the latest average fall in prices for 12kg cylinders is about VND50,000.
Petrol prices have also fallen further by VND500 per liter, the ministries of Finance and Industry and Trade said yesterday.
After four adjustments in October, petrol prices have reduced by VND 2,000 a liter. As of now, the price of A95 and A92 fuels are VND15,500 and 15,000 respectively.
The prices of diesel and kerosene have also fallen by VND500 a liter, and the new prices are VND14,000 for diesel 0.05S and VND5,500 for kerosene.
The Ministry of Finance has decided to increase the import tax on petrol products.
The import tax on petrol will increase from five to 10 percent and on kerosene from 10 to 15 percent.
The import taxes on mazut oil, used for generators, will be 15 percent instead of the current zero percent.
New import taxes will apply on all goods in customs declarations from October 31, the Finance Ministry has said.
According to Nguyen Thanh Huong, deputy head of the Price Management Department under the ministry, the reduction of retail prices combined with the increase in import taxes will balance the interests of enterprises, the state and consumers.