The Ministry of Finance increased retail petrol prices for the second time in less then 7 weeks after petrol importers seeked approval from the ministry several days ago.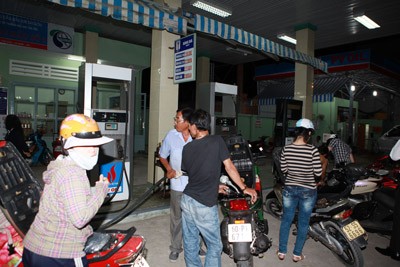 People flock to fill up gas before new price adjustment (Photo:SGGP)
Accordingly, A92 gasoline increased by VND900 to cost VND23,800 per litre; diesel was started selling at  VND21,900 per litre, rising by VND500; kerosene will go up by VND600 to cost VND21,400 per litre.
Just days ago, four key petrol importers --- Petrolimex, PV Oil, Saigon Petro and Petimex were seeking approval from the ministry to increase retail prices, citing that retail fuel prices should be increased as cost price was higher than retail price, forcing them to take losses.
The Ministry of Finance has explained that the adjustment would help domestic petrol prices match with global market fluctuation.  
The import tariff on petrol and oil has also been slashed to zero per cent to stabilise market prices.
This is the second domestic petrol price hike this year, and it has pushed prices of commodities, especially A92, to very high levels, said a representative of the ministry.
Earlier, on March 7, price of A92 was raised by VND 2,100 (US10 cents) to retail at VND22,900 per litre.