Viet Nam National Oil and Gas Group (PetroVietnam) has announced it intends to mobilize US$500-800 million to develop real estate and high-end tourism zones in Ha Noi and the northern province of Ninh Binh.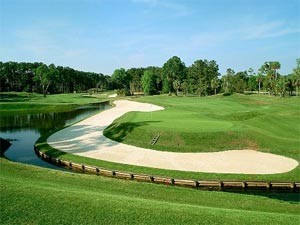 Part of the 54-hole golf course near Yen Thang Lake
According to PetroVietnam, the group is planning to build a US$300–500 million upscale hospitality complex in the Me Tri area of Ha Noi.

Upon completion in 2010, the complex is to house a five-star hotel, trade center, amusement park, offices, luxury apartments and structures for related functions.

In Ninh Binh, PetroVietnam and other local companies are collaborating to develop two hospitality projects under the umbrella of the INCONESS Hanoi Investment Joint Stock Company, recently founded by the group for developing, managing and operating golf courses and high-end tourism services.

The group plans to build a sports and tourism complex with a 54-hole golf course near Yen Thang Lake, as well as a 3,000-hectare ecological tourism area by Dong Thai Lake. Total investment capital is slated at VND3,000 billion or about US$184 million.

The first phase of construction and inauguration of the Yen Thang golf course's first 18 holes is planned for the end of next year. The second phase is to be completed by 2010. Upon completion, Yen Thang is to be Viet Nam's biggest golf course.