Phan Thiet fish sauce, a favorite brand name of Vietnamese consumers and a particular product of the central province of Binh Thuan, has recently struggled to survive because of material shortage and stiff competition from giants in the industry.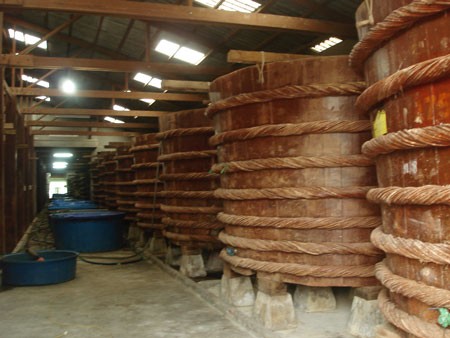 A fish sauce production establishment in Phan Thiet city (Photo: U.Phuong)
Phan Thiet city in the province is home to over 100 establishments using traditional method and providing millions of liters of fish sauce in the market annually.
However, they had never faced with such a shortage of material as they have this year. Although anchovy season has started, the establishments have still run around to buy material. Supply meets only 20 percent of demand now.
According to the association, its members processed an average of 15,000 tons of anchovy in 2012. The  number however reduced to only 10,000 tons in 2015. At present many of them have no kilogram of the fish to make the sauce.
The material shortage has highly increased anchovy price.
The owner of Muoi Tiep production establishment in Ham Tien ward, Phan Thiet said that an anchovy kilogram was priced VND5,500 last year but surged to the unprofitable level of VND9,000 now.
Moreover, fish sauce makers have met with competition from fish meal processing plants which have also struggled to buy materials.
Chairman of the Phan Thiet Fish Sauce Association Truong Quang Hien said that fish meal plants waited for fishing boats right at ports to purchase all right after they docked.
Traditional fish sauce makers have experienced severe influence from giants in the industry whose products are bottled conveniently for consumers with eye-catching designs.
The association has 44 members but only 6-7 of them have been able to market their products while most of the remaining are in service of large firms.
Mr. Hien said that propaganda should be stepped up to prevent fishermen from catching in the way of eradicating seafood resource including anchovy.
Binh Thuan province should reconsider licensing and management of fish meal plants and specify which types of seafood they can buy.
Members of the association are small and short of connectivity. Hence, he proposed them to link up together to have the same voice and give mutual aid to improve their competitiveness and develop sustainably.
The province People's Committee should have policies to assist traditional producers to advertise their products domestically and abroad. The establishments should improve their products' quality to meet standards and register the geographic indication of Phan Thiet fish sauce.