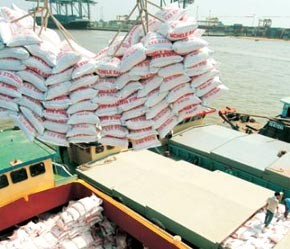 Rice loaded into a ship for export in Ho Chi Minh City
The Philippines will purchase 500,000 tons of 25 percent broken rice priced at US$380 per ton from Vietnam's largest rice exporter Vinafood 2 and a contract signing is expected in early January 2009.
The information was revealed by the Philippine Secretary of Agriculture, Arthur C. Yap, on December 19, the Manila-based Business World newspaper reported.
Manila-based daily The Inquirer said that the Philippine Department of Agriculture wants to import low-price rice from Vietnam instead of rice from Thailand, which is priced at US$520 per ton on average.
The Bank for Investment and Development of Vietnam (BIDV) recently inked a cooperation agreement with Vinafood 2, under which BIDV will provide VND4,000 billion in credit for Vinafood 2 to buy rice and farm produce from farmers.