Philips kicked off on May 28 a campaign to publicize in Vietnam its latest steam irons that make ironing easier and faster with less energy.
Philips Electronics Vietnam CEO Pratt Hsu joined a launch ceremony held at a Best Caring electronics and home appliance outlet in Ho Chi Minh City. He ironed a shirt with a Philips steam iron.
"The last time I ironed was 45 years ago. But now I do this quite easily and comfortably, as you see," he said.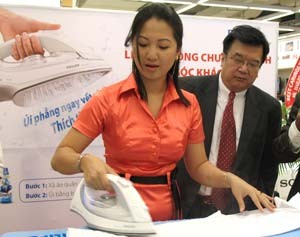 A potential customer tests a Philips steam iron with a shirt while Philips Vietnam CEO Pratt Hsu watches during the introduction of Philips steam irons in HCM City May 28 (Photo: Tuong Thuy)
Steam makes the fabric to be ironed more flexible, which leads to easier wrinkle removal, said Mai Duy Bao, a Philips Electronics Vietnam senior manager. The steam flow and distribution depends on the amount of holes, the shape of the holes, and the pattern in which the holes are positioned, he said, explaining how the iron works.
A latest report by leading market research company GfK says that Philips irons currently hold a 61% market share in Vietnam.
Bao said together with the introduction of the new steam irons, Philips expects to remain this leading position in the country.
During the campaign that lasts till the end of July, buyers of Philips steam irons will get a free bottle of Comfort fabric softener 400 mililiter-1.8 l, produced by Unilever.