Prime Minister Nguyen Tan Dung yesterday said Viet Nam must slash the total time needed to prepare and file yearly tax payments to the ASEAN average of 171 hours per year by the end of this year.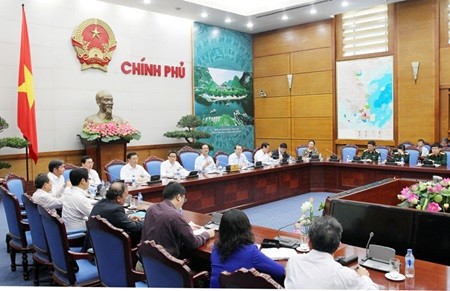 Prime Minister Nguyen Tan Dung meets with authorities and staff from the General Department of Taxation and relevant government agencies.— VNA/VNS Photo Duc Tam
Enterprises in Viet Nam still have to spend up to 872 hours completing tax payment procedures.
The PM was talking during a meeting with authorities and staff from the General Department of Taxation and relevant government agencies.
In March, 2014, the Government issued Resolution 19, requiring tax authorities to streamline procedures for enterprises to prepare, file and pay taxes to an average of 171 hours per year in line with the ASEAN-6 bloc - Indonesia, Thailand, Singapore, the Philippines, Malaysia and Brunei.
A report presented at the meeting by Finance Minister Dinh Tien Dung said that apart from procedure simplification, the tax sector had sped up the application of online tax filing. By March 25, the ministry estimated that nearly 40,500 enterprises had registered for tax filing online.
The Finance Ministry said it was continuing to ensure that all tax-related information was easy for enterprises to access online and building supporting services for taxpayers.
Participants agreed that efforts should be focused on cutting unnecessary procedures and applying information technology.
Deputy PM Vu Duc Dam said that Viet Nam must strive to catch up with countries such as Singapore and Brunei in simplifying tax procedures.
PM Dung agreed, saying that all Government agencies must realise that administration and tax were central to all reforms.
He said tax agencies must be punished if they deliberately caused confusion and burdens for tax paying enterprises.
According to a report on the business environment by International Finance Corporation (IFC) and the World Bank, Viet Nam was ranked 149th among 189 countries and territories in terms of tax convenience last year, or four places lower than the previous year.
PM direction
Prime Minister Nguyen Tan Dung provided guidance on inter-ministerial co-ordination in macro-economic management and operation during the first quarter of 2015.
The Government leader spoke at a meeting in Ha Noi on Monday. The macro-economic situation needed to be reviewed to ensure stability, especially as the country implemented market economy regulations and integrated into the international community, he said.
The country's economy has recovered gradually and the macro-economy has become increasingly stable, as evidenced by gross domestic product (GDP) growth of 6.03 per cent from January to March, compared with 5.06 per cent in the same period last year.
Total retail sales of goods and services climbed by around 10 per cent, and the total export revenue rose 6.9 per cent annually.
Various fields such as industrial production, agriculture, services and social welfare saw positive growth.
In 2015 the country would aim for 6.2 per cent in GDP growth and a 10 per cent export increase, while continuing to curb inflation and stabilise the exchange rate, he said.
To meet these goals, Dung requested all ministries and competent agencies forecast, analyse and evaluate the macro-economic situation to the best of their abilities, while embracing links between fiscal and monetary policies.
Furthermore, the ministries needed to focus on removing bottlenecks for businesses and enacting policies to support industry and agriculture development, Dung said. They must work on the investment climate and expand consumption markets, especially for export.