Prime Minister Nguyen Tan Dung gave ministries and relevant sectors instructions on rice export management on February 13, under which Vietnam has been set a target to export 4.5-5 million tons of rice this year.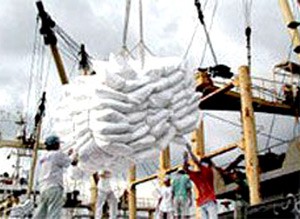 Vietnam expects to export 4.5-5 mln tons of rice this year
The PM's target will be adjusted at the end of the second quarter to account for production rates, prices and the condition of the domestic and global rice markets.
 
Any changes to the original target will be based on reports from the Ministry of Industry and Trade, and the Ministry of Agriculture and Rural Development.
 
The PM asked the Central Bank direct large commercial banks to provide loans to those who buy rice for domestic trade and exports, and apply the government's policy of subsidized four percent interest loan scheme.
 
The Finance Ministry will work with the Vietnam Food Association (Vietfood) to give accurate updates about rice prices in the domestic and international markets, and farming costs to better manage production and consumption of rice, and ensure that farmers get healthy profits, the PM's instructions said.
 
A zero tax rate is intended to support food trading companies and stabilize prices.
 
The PM asked Vietfood to intensify its search for new export markets and customers between 2009-10.