The German sports car maker Porsche officially announced its entry into the Vietnamese market with a launching ceremony  in Ho Chi Minh City last week.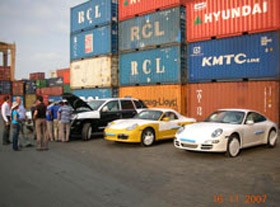 First Porsche cars imported officially into Viet Nam
"We have closely watched the positive development of Viet Nam for the last couple of years, and now we are convinced, it is exactly the right time to set up a Porsche business here," said Andreas Klingler, general director of Prestige Sports Cars Co Ltd, the official Porsche importer in Viet Nam.
Porsche introduced the Boxter, a two-seater roadster; the Cayman, a two-seater coupe; and the Cayenne, a five-seater SUV.
The first shipment of Porsche vehicles, which are made in Germany, is here. For 2008, the company plans to sell 30 cars for Vietnamese market.
The company has started constructing the Porsche Center Saigon in District 7 to be operational by July 2008.
With the Porsche Center, Vietnamese customers will have full services in sales, after sales, accessories and design driver's selection.
The company is considering opening a center in Ha Noi.