President Nguyen Minh Triet has encouraged Vietnamese business people to grab any opportunities to get ahead in the market even though global competition has given them more challenges to meet.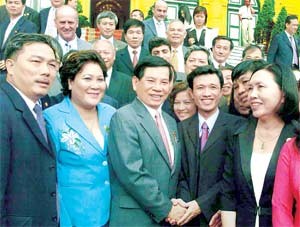 President Nguyen Minh Triet (C) meets the business community at the Presidential Palace in Ha Noi (Photo: SGGP)
Addressing a hundred of Viet Nam's leading and up-and-coming business people in Ha Noi on Friday, President Triet confirmed the Party's and the State's recognition of the business community's contribution to the country's development and integration into the global economy.
Vietnamese enterprises need to constantly develop and help move the country forwards in the face of all difficulties and challenges from international competition, he said. President Triet, who was meeting with the entrepreneurs on the occasion of Viet Nam Entrepreneur Day (October 13), stressed that there were numerous opportunities awaiting them.
He encouraged his audience not only to keep honing their business knowledge but also to raise their political awareness.
The President asked them to suggest initiatives for the Party and State to consider and perhaps incorporate into policies for developing the business community.