State President Nguyen Minh Triet on Saturday asked the Song Da Corporation to develop speedily and effectively, while focusing on the training of managers and workers to raise its competitive edge.
"The Party and State will create favorable conditions for State-run corporations like Song Da to surmount difficulties and develop more efficiently," the State leader affirmed while visiting the corporation in Ha Noi Feb. 7.
He noted that Song Da is a leading civil engineering and construction corporation in Vietnam, which has built many key national projects such as Thac Ba, Hoa Binh and Yaly hydro-electric power plants, Bai Bang paper mill, But Son cement plant, National Highway 1A and the Hai Van Tunnel.
The corporation has established more than 70 affiliates, operating in various construction areas, including the electricity, steel, cement, housing and property industries. It aims to become a conglomerate.
The President lauded the corporation's strategy for training specialists, engineers and workers which now number over 30,000, including 4,500 managers and specialists and 22,000 skilled workers.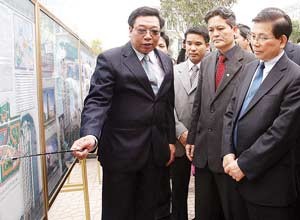 President Nguyen Minh Triet (R) tours My Dinh Urban Area in Ha Noi, being developed by Song Da affiliate SUDICO, on Feb. 7
The same day, he visited officials and workers of the Song Da Urban & Industrial Zone Development and Investment Joint Stock Company (SUDICO), a Song Da affiliate, and planted a tree at My Dinh Urban Area in Ha Noi's Me Tri commune.