The recent hike in prices has had a great impact on the shopping habits of people where food items and essential domestically made goods have priority.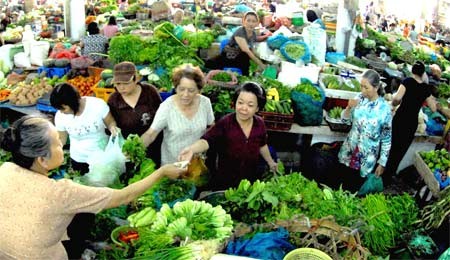 Shoppers buy vegetables at a market in Ho Chi Minh City (Photo: SGGP)
According to the Domestic Market Department under the Ministry of Industry and Trade, the total retail consumption has increased by about 20 percent per annum during the last these years, while this figure was 30 percent per year earlier.
 
However, there has been a remarkable change in purchased products with focus being more on food items. Supermarkets have seen an obvious shift from non-food items to food items.
 
According to the Saigon Co.op, the revenue rate of non-food products and food products was 56 and 44 percent before 2009, but the rate has now changed to 44 and 56 percent since 2009 and in March 2011, it showed that it was 43 and 57 percent.
 
Sale of staple foods like rice, sugar and fresh foods have soared much more while those of clothes and cosmetics have dropped considerably.
 
Duong Thi Quynh Trang, PR director of Big C Supermarket, said that the structure of purchased goods has switched to food items from non-food products.
 
A deputy director of a big supermarket chain in Ho Chi Minh City said that there has not only been a change in the structure of shopped goods, but also in the purchasing power of consumers. The purchasing power has decreased by 20 percent compared to that before 2008.
 
To save money, most customers have also changed their shopping habits, from buying imported goods to buying domestically made products. As a result, the volume of domestically made goods displayed in supermarkets has risen by 80-90 percent from 60-70 percent.
 
Many Vietnamese made products are of satisfactory quality and food hygiene standards and other safety measures are being enforced as well. They also are far cheaper than most imported goods.
 
For instance, Vietnamese powder milk is about one-third the price of an imported brand, though so far there has not been any quality check to compare foreign and local milk qualities.
 
Bui Thi Huong, PR director of the Vietnam Diary Products Joint Stock Company (Vinamilk), said that production of Vinamilk powdered milk had surged by over 30 percent in 2010.
 
A survey on Ho Chi Minh City consumers by Saigon Tiep Thi newspaper showed that expenses on food items by a household accounted for an average of 34.3 percent of its total income.
 
The survey also showed that 30 percent of the total income goes into savings, 15 percent for study expenses while entertainment counted for only 3 percent. Most people chose to watch television as a means of entertainment.