Price of dragon fruit and sweet potatoes exported to China are decreasing.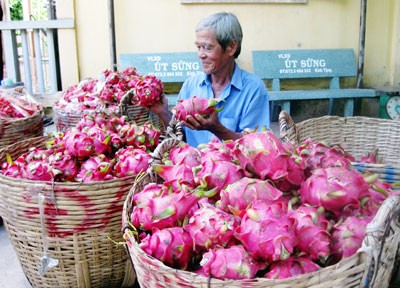 Prices of dragon fruit down
The price of Japanese sweet potatoes decreased to VND 640,000-660,000 per quintal due to a slowing market, said Huynh Van Quan, chair of Tan Thanh Cooperative in Binh Tan District, Vinh Long Province in the Mekong delta.
The price of dragon fruit also reduced to VND25,000-30,000 for the red-fleshed type and VND 22,000-23,000 for white-fleshed type.
The area of sweet potato farms are increasing in Long An and Tien Giang provinces. Farmers in Vinh Long, Tra Vinh, and Dong Thap provinces have also switched to growing sweet potatoes.
Farmers in Cho Gao District, in Tien Giang Province are worried because the dragon fruit production is extremely dependent on the Chinese market, said farmer Tam Thong.
Farmers are still able to profit more on the fruit than rice if the price of the fruit is VND10,000 up.