Costs of price-stabilized goods have remained stable in supermarkets after Tet (Lunar New Year), whereas price of seafood and vegetables has soared sharply in traditional markets.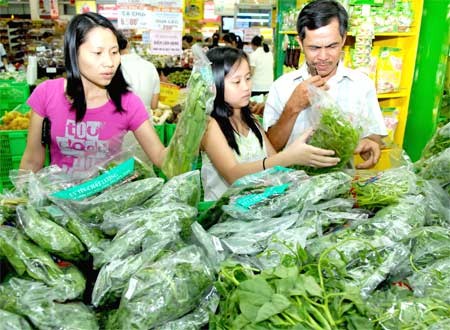 Shoppers check out vegetables at a supermarket in Ho Chi Minh City (Photo: SGGP)
Commodity goods that were price stabilized like rice, sugar, cooking oil, red meat, poultry, eggs, fruits, vegetables and processed foods were sold in large volumes before Tet and these goods are still in abundant stock after Tet.
 
This goes to show that over 30 supermarkets and trading centers and 130 shops that sold price-stabilized goods had made good preparations in stocking the goods.
 
The price of pork has maintained at VND64,000 per kilogram at Co.op Mart supermarket, while it is selling for VND90,000 per kilogram in the market.
 
Sugar which is currently selling for VND25,000 per kilogram is still VND18,000 per kilogram in supermarkets.
 
Due to a high demand for seafood and vegetables coupled with inadequate supplies, prices have shot up by 30-40 percent.
 
A retailer commented that people ate so much meat during Tet that they prefer seafood after the festival which is raising the demand.
 
Besides, fishermen are still enjoying the holiday season and have yet to go out to fish in the sea causing a shortage of seafood.
 
At present, a kilogram of fresh water fish costs VND150,000 and a kilogram of tiger shrimps about VND300,000 while it was only VND180,000 before Tet.
 
Cucumber currently costs VND10,000-12,000 per kilogram and tomato fetches VND9,000-15,000 per kilogram at Ben Thanh, Ba Chieu and Cay Go markets.
 
Traders attribute the price hike to an increase in transportation costs, expecting also for prices to stabilize within 15 days after Tet.