The EVA Advertisement Company leasing of the Sai Gon – Nha Trang train at VND17 billion per year (nearly US$1.1 million) to serve tourists marks a turning point: the railway sector's "monopoly" is no more. However, will this competition be good for passengers? Dr. Vuong Dinh Khanh, Vice Director General of the Viet Nam Railway Corporation (VNR) had a talk with the Sai Gon Giai Phong (SGGP) Newspaper.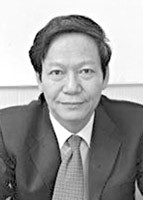 Dr. Vuong Dinh Khanh

Dr. Vuong Dinh Khanh:
(Individuals' participation in exploiting railway) is an indispensable development that has happened in other countries to exploit the railways, serving passengers better and complying with Railway Law.  
In term of the Law, protectionism and monopoly are prohibited, and all businesses are encouraged to invest in the railway services. At present, we are encouraging individuals to invest in building warehouses and loading machinery.  
The Railway Law regulates that all railway transport companies must meet safety requirements on railway operation. If any individuals, groups or enterprises meet the requirements, they can take part in the railway business.  
The VNR has operated under two business management systems: infrastructure business and transport business which is run on the basis of leasing infrastructures of the State. At present, companies only lease journeys and pay a fixed rate on their total revenue, management is still provided by the VNR.  
It will be more convenient for us to have more Sai Gon – Nha Trang trips on the train schedule. Currently, there is only one train running the route at night. In the near future, there will be one more Sai Gon – Nha Trang trip, departing in the morning and returning in the evening. The passengers are expected to increase and our night trip's revenue might decrease. However, total amount of passengers will increase, so will total revenues.  
Enterprises who lease trains will be compensated for expenditures on overhauling and maintaining railroad cars, and salary for staff serving on trains.  
Undoubtedly, passengers will benefit from the more options available, and for that reason, we are more than willing to provide.  
In addition, competition will make railway employees more dynamic. And this was the VNR's purpose. 
All enterprises are equal

SGGP reporter:
Will enterprises who take part in the railway exploitation be treated on equal terms as the VNR controls infrastructures and also exploit the railway services? 
Dr. Vuong Dinh Khanh:
Individuals and enterprises will take part in the exploitation equally. However, beside 10% of their revenues paid to the State, they have to lease trains, management and technology services from the VNR.  
Previously, there was a suggestion to assign infrastructure management to the State's organizations and separate the transport business to give equal position to other enterprises in the exploitation process. However, if the transport business is separated from the infrastructure management, we will not be able to adhere to such principles as synchronizing, development planning, and centralized management. If enterprises do whatever they want, they will obstruct one other, and this is not safe.  
Railway Law stipulates financial transparency between the infrastructure management and railway transport business. Enterprises exploiting railway transport have to come to an agreement on allocating journeys on the train schedule. If they cannot reach an agreement, tendering will need to be used. The highest bidder will win the contract and be in control of the train schedule.  
Currently, only some enterprises have leased a few railroad cars of a train to do business, such as Railway Transport and Trade Joint stock company (Ratraco group), Tu Linh Pharmacy and Tourism company (Tulico), TSC Tourism company, Viet Hung company and Phuong Bac Tourism company.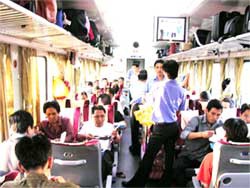 Passengers are served better on an express train.
Bidding to solve problems
SGGP reporter:
How should the tender be carried out to avoid the case of "only the fittest survive" as the VNR controls infrastructures, exploit journeys and at the same time organizes the tender?  
Dr. Vuong Dinh Khanh:
We, as managers, have yet to find answer to the question. At present, there is no concrete road map for it, but the Rail Law has provided some guidance for solving the above mentioned tendering issues, as well as difficulties and disputes which may occur in the railway industry. So far, there has not been any bidding, we have only had agreements, and no dispute has yet happened.  
If private enterprises want to do business, they can come to us with their ideas. And if we find their ideas mutually beneficial, we will do business with them. We will establish a clear mechanism soon. 
What can not be done by private enterprises, the Sate will do.
SGGP reporter:
Railway is the State's asset. If the State does not form a concrete road map, most lucrative journeys might be leased out quickly, and the State be left with the difficult share?  
Dr. Vuong Dinh Khanh:
Some former engineers of VNR have come back and leased our trains after they left their jobs and set up their own transport business. Therefore, if we do not weigh the pros and cons well, the best parts will surely be taken by private enterprises.  
It is also normal to have private enterprises' seeking to bid for the best journeys for their business. What they can not do, the Sate will need to take over. But the problem is that if there is no transparent, plausible tendering process, irregularities might occur and that will be detrimental to the State. 
In the future, railway management companies will be separated from transport service companies. In term of business, they will sign economic contracts with each other. That would mean transport units of the railway industry will even have to sign contracts with railway management companies. 
This process is being carried out step by step, namely leasing out the Nha Trang – Sai Gon train, the Ha Noi – Lao Cai train will be next, but it is just at a low joint venture level.