A delegation from the Viet Nam Fruits Association (VFA) led by VFA president Dr. Vo Mai have met with a dozen of Hong Kong's produce traders in the hope of expanding their markets.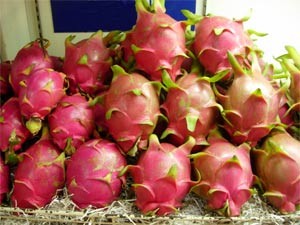 Blue dragons are one of Vietnamese fruits which Hong Kong consummers are interested in (Photo: Thuy Hang).
The hosts showed particular interest in blue dragons, beets, taro, ginger, chili and sweet potatoes, which grow easily in the tropics and are cheap and readily available in Viet Nam.
On the more technical level, they discussed such common problems as late payment, stable quantity, quality and species.
The upshot of the meeting is that several Vietnamese exporters could find themselves doing regular business with Hong Kong.
Said Dr. Mai succinctly afterwards, "Viet Nam has the orchards, Hong Kong has the big market."
No doubt Hong Kong's close proximity to Viet Nam and its similar climate are favorable factors, since transportation and preservation should be that much easier, she added.
Due to the small scale of production and limited investment, Vietnam's provinces have started establishing cooperatives that supply one or two types of quality fruit and vegetables. The idea of this specialization is to improve efficiency and meet export requirements.
Viet Nam earned an estimated $152 million from fruit and veggie exports in the first seven months of 2006, up 11.4% year-on-year but completing only 52.2% of the 2006 target of $291 million.
These days Vietnamese produce finds its way to 50 countries and territories. China is the biggest buyer, accounting for 42% of the export turnover, followed by Singapore, the USA and Taiwan.
The biggest earners are pineapples, bananas, oranges, grapefruit, mangoes, dragon fruit, litchis and longans.