The sixth International Processing, Filling and Packaging Exhibition (ProPak Vietnam 2011) will be held at the Saigon Exhibition and Convention Centre (SECC) in Ho Chi Minh City from March 22-25.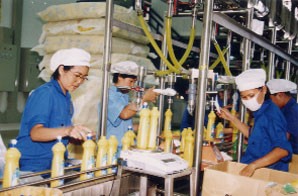 A dishwater bottling line
243 participants from 28 countries will be presenting a wide range of products like services, technologies and machinery of sectors such as filling, packaging, handling, labelling, quality management, measurement, test, automation, transportation, storage, refrigeration and pollution control.
ProPak is the largest international trade event for the processing, filling and packaging sector in Vietnam. It is also an international trade channel to link Vietnamese and foreign businesses, producers, suppliers and experts.
At ProPak Vietnam 2011, businesses and individuals will have a chance to learn about the most cost-effective solutions which can help them deal with business problems. They will also have an opportunity to approach new products, services and technologies in the processing, filling and packaging sector.
In 2010, many technology transfer contracts were signed during the event.