Some housing projects in Ho Chi Minh City have been marketed heavily, giving the erroneous impression that the real estate market is bouncing back.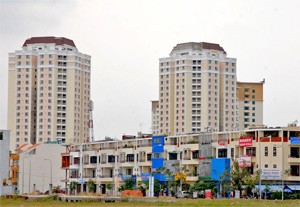 Newly-built apartment blocks in Ho Chi Minh City. Many people come to real estate agencies to inquire about the market, but not many buy or sell (Photo: SGGP)
Property developers admitted that while many people come to their office to inquire about the market, not many buy or sell.
 
ACB Real Estate Company, a brokerage, said its office is always crowded, especially since Tet, with around 130 people coming daily. But only ten houses in the VND1.5-3.5 billion range have been traded since the lunar New Year, it said.
 
After Tet, property prices have risen sharply, especially in Trung Son in Binh Chanh District and South Sai Gon in District 7.
 
Bich Tram, a broker, explained that the prices of apartments here have increased by VND1 billion since the Nguyen Van Cu bridge linking Districts 1, 4, 5, and 8 opened to traffic. Upon its completion at the end of this year it will link them with South Sai Gon.
                                                           
But she said sellers are reneging on the agreements they made with buyers before the prices shot up.
 
The director of a realty company said at the Him Lam Kenh Te project in District 7, land prices have surged -- up to VND34 million a square meter from VND27 million before Tet.
 
But there have been no transactions.
                                                
Warning
 
Nguyen Ngoc Duong, director of Viet Five Stars Company, said the number of property transactions has not been unusual and cannot be called a "fever."
 
Professional investors still remain on the sidelines, he said.
 
Most people buying now are amateurs who had their money in banks and are now switching to realty since interest rates have dropped. Therefore, not much money is entering the market, he added.
 
Vinaland's new scheme

Vinaland company recently began to sell a "housing savings certificate." Investors deposit a certain amount every month until 2014 and when the company finishes construction of the foundation for its proposed housing complex, the maturity amount will be used to buy a house.
 
By January 19 it issued the certificate to 100 of its staff.
 
Vinaland promises to repay the entire principal together with interest at double the central bank rate but there are many uncertainties.
 
It is not clear how many years the project will take to get off the ground and who will compensate investors if the company goes bankrupt.