Viet Nam attracted more than US$2 billion in foreign direct investment (FDI) in the first quarter of 2006, up one percent from the same period last year, according to the Ministry of Planning and Investment's Foreign Investment Department.       
Of the total, more than US$1.6 billion came from 215 projects licensed between January and March, and US$426 million from 68 projects in operation permitted to increase their investment capital.
In March alone, 102 projects were licensed with combined capital of US$441 million.
The total FDI inflow into Viet Nam in the first three months of 2006 accounts for 31.6 percent of the year's target.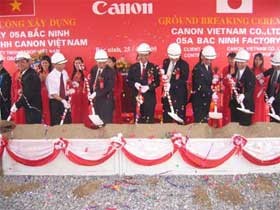 Canon is a big foreign investor in Viet Nam
A majority of projects licensed in the first quarter are in the industrial and building sectors, says the Foreign Investment Department. Notably, among the new investors were Japanese companies like Brother Industries, Matsushita and Canon.
So far this year, foreign-invested enterprises in Viet Nam have disbursed about US$810 million in their pledged capital, up 14.1% from last year's same period, and posted the total revenue at US$4.95 billion, increasing by 29%.