Vietnamese enterprises have to import a huge amount of raw material from other countries every year with several latent risks that pose a constant challenge for local companies.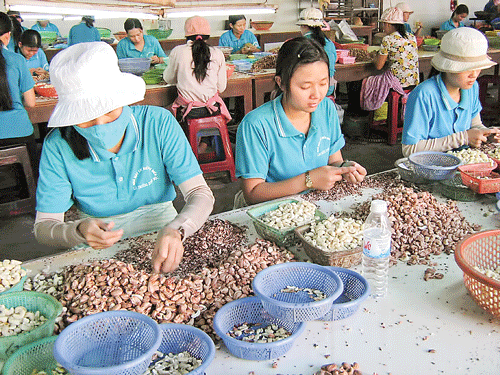 The Vietnam's cashew industry has to import 50 percent of the material. (Photo: SGGP)
When first entering the global market, Vietnamese cashew was recognized as a high-quality product. However, in recent year, the country's leading spot has shaken with many companies suffering losses and discouragement because they could not source raw material.
At a recent conference, the Vietnam Cashew Association said that the area under cashew in the country has become narrower, so in order to supply the demand volume for export, the local cashew industry has to import 50 percent of the material.
Nguyen Duc Thanh, CEO of Tan An Foods Processing Export Limited Company, shared that raw cashew was mainly imported from Africa and its quality was hard to control. Last year, the company suffered losses because 1,500 tons of raw cashew imported from Africa was mixed with low-quality cashew. Added to this, business partners in Africa delivered late, causing Vietnamese companies to lose face with clients.
Similar to the cashew industry, the seafood industry has also been experiencing the same situation. Le Thanh Phuc, director of Phuc Moc Seafood Company, shared that except pangasius, the country's seafood industry has had to import a large amount of fish, squid, shrimp, and crab from Asian countries to ensure material stock.
In reality, some countries have plentiful resources, advanced means of fishing, and modern preservation technology but also have high import demand for seafood so they use it as a pretext to raise their selling price. As local material fails to meet demand, firms are forced to accept high prices to fulfill their orders in time.
In case, firms import low-price materials from Thailand and Bangladesh, they have to face problems, such as origin tracing, or control on banned chemical substances, which damage the image of local seafood brands.
Besides these two industries, leather and footwear, garment and textile, and wood processing industries also have to deal with many risks as import countries set higher and higher technical barriers while producers are not able to control origin and quality of imported materials.
In the face of a shortage in raw materials, many experts and associations have suggested developing growing areas to meet production demand. In fact, a scheme for each industry has been built for several years but to develop in accordance with plan is an extremely difficult task.
According to the Vietnam Association of Seafood Exporters and Producers, import of raw seafood will increase by 20 percent compared to previous years with total import value possibly reaching US$1 billion. Although firms want to reduce import of raw seafood, the spirit is willing but the flesh is weak, as the number of seafood breeders suffering losses has increased.
In 1993, breeders who profited accounted for 94 percent of total number of breeders. During 2002 to 2005, the rate dropped to 75 percent, and to 70 percent from 2005 to 2009. Between 2010 and 2012, this figure fell to around 50 percent so farmers became negligent in breeding seafood.
Meanwhile, firms breeding scale was merely able to fulfill a part of the orders. As for cashew industry, most cashew trees were aging while growing area gradually narrowed compared to that of rubber and pepper. Parallel to this, growing area of cotton plants for textile and garment industry failed to improve in past years. 
Experts said that firms should choose prestigious suppliers and set specific quality requirements in the business contract to limit risks of receiving low-quality commodities. Moreover, firms also can choose to process products for exporters for which they will only have to produce products as requested and avoid other risks.
In the long-term, the Government and relevant departments should promptly promote solutions to develop growing areas rationally and effectively so as to lessen dependence on imported raw materials.
According to Jocelyn Tran, chairwoman of the American Chamber of Commerce in Ho Chi Minh City, big importers in the US, Japan, and EU currently tend to choose producers with full package production. Some even require producers to do logistics services or deliver products to their retail stores. So if producers cannot take initiatives in input materials, they will gradually lose their competitiveness as well as customers and be passed by other rivals.