According to the ACB Real Estate Company (ACBR), after a month's implementation of a promotional program for real estate dealings by Vietnamese currency (VND), the number of customers increased considerably.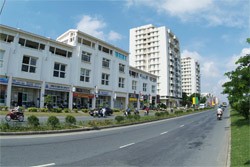 A luxury apartment building area in Ho Chi Minh City (Photo: Viet Dung)
The program includes putting an advertisement in newspapers for two times and upload estate information and photos on ACBR website for a month, free of charge.

Advertising on estate trade by VND makes up around 60%, which was 20% earlier, of the marketing quantity. The rate of successful estate transactions by VND comprises 73% of all the successful dealings.